About Us
Our team of highly trained professionals uses the latest healing technologies to restore you to pain-free health, quickly and easily. We thoroughly evaluate & treat all of the contributing root factors related to your issue. This includes, but is not limited to, your work and home stressors, overall body condition, nutrition, genetic & postural habits, emotional connections and patterns that are held in your muscles
Our Special Health Programs
DEVOTED TO THE INDIVIDUAL NEEDS OF ALL OUR PATIENTS
We are an inter-disciplinary clinic servicing Oakville for more than 12 years! Our clinic strongly believes in collaborating the skills and expertise of each practitioner to develop effective treatment plans. Naturelife offers first class Registered Physiotherapy, Registered Massage Therapy, Chiropractic Care, and Acupuncturist. At Naturelife,  we strongly believe that every patient who walks in our door deserves treatment options tailored to their own unique needs. By fostering a professional and compassionate environment while under our care, patients at Naturelife remain positive and motivated throughout their recovery.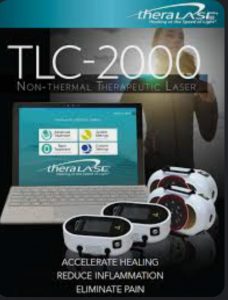 THERALASE TLC-2000
SMART LASER TECHNOLOGY FOR SAFE, EFFECTIVE AND NON-INVASIVE PAIN RELIEF
Theralase® TLC-2000 SMART CLT is a first of its kind. Theralase® Cool Laser Therapy ("CLT") medical devices are clinically indicated and cleared by the Food and Drug Administration ("FDA") and Health Canada for the safe and effective treatment. An approach that features a patient-focused algorithm that, with the help of wireless BlueTooth® technology, using only true laser diodes and a superpulsed delivery mode to accelerate healing, reduce inflammation and eliminate pain to treat a broad range of nerve, muscle and joint conditions. Theralase® increases customer satisfaction by providing one of the most advanced therapeutic laser technology devices in the market, supported by scientific and clinical research, comprehensive training programs and the most up-to-date clinical protocols to ensure therapeutic success.
Client Testimonials
It's amazing having my physiotherapy treatment done from Navneet. She is so gentle and explains you in depth. Her expertise and skill at work would definitely make one feel at ease!! I feel I am in total safe hands!!!
Ritu Chadha
Physiotherapy Treatment
The best massage I've had! On my first visit, I expected lengthy paperwork and, although paperwork is always part of such ordeals, the staff made it so easy for me to get it done quickly so I could move on to my massage. The environment itself is so soothing, the staff is kind and knowledgeable, and they really listen to your concerns. My massage therapist was so thorough in treating my shoulder pain. I've had many massages to try and treat my longstanding shoulder pain, but I've never before had the relief in just one session that I got here - this is my go-to!
Kanza Najam
Massage Therapist
I went to Naturelife recently for my first time and do not regret it! I have yet to experience a massage like that before. Cynthia was fantastic and she was able to assess my troubled areas in just a few minutes. I was impressed with her skills and the massage was great. I look forward to my next visit!
Francine Williams
Troubled Areas
I have never ceased to have a positive result from my massage therapy appointments with Ming or Alex at Naturelife. My plantar fasciitis was rectified as well with a very personal experience versus large scale physiotherapy offices. Highly recommend.
Lesley Dalgarno
Massage Therapy
By far the best Physiotherapy services I have ever received! Abdullah pays the upmost attention to minor details before giving a diagnosis, as well as effectively communicated what exactly was the problem with my injured knee. He made sure that I was educated and felt comfortable on the course of treatment he would pursue. Moreover, Abdullah also followed up the appointment with an email illustrating specific exercises I should conduct at home. The employees at NatureLife truly are concerned about your full recovery! 5 stars for them 🙂
Samir Khan
Samir Khan
Amazing place, very clean environment and they've got all the necessary precautions especially during the pandemic. I felt very safe from walking into this place until completeness of my treatment. Their staff is very professional at the same time friendly and honest. The RMT helped me with my chronic pain and also gave me advise to do some stretching exercises at home and truly that has helped me tremendously. Thank you!!
N Ahmad
Chronic Pain
I had a six month long shoulder pain and tried this place. Very impressed with the Chiro was very knowledgeable and thorough in his diagnosis and got to the hot spot really quick. Friendly and courteous staff and reasonable rates too. Will definitely recommend to friends and families. If you're tired of searching for a pain relief, this is the place to go.
Najam Yaseen
Shoulder Pain
I have been an Oakville resident for 20+ years and I have been to multiple acupuncture clinics and I have to say without a doubt that Naturelife Health Centre is the BEST. Ming Wang and his team are friendly, courteous and very pleasant. Ming is so kind, patient and always provides the best treatment. I highly recommend this clinic to friends and family.
Elaine Birkbeck
Treatment
I am using this place for several months now. Very professional, courteous and helpful. Both their RMT (Ming) and Physio (Abdullah) are very good. Physio Abdullah is very knowledgeable, his diagnosis is excellent. He takes his time to understand the problem and then explain in detail the cause. I highly recommend both Physio and Massage at this location.
Athar Siddiqui
Physio and Massage
Mr Wei Li helped me with a badly stiffed neck. His methods were effective, he explained everything to me - the science behind the therapy so I understood what was happening and just generally has a lovely disposition. I don't think I would go to another clinic for my massage/physio/chiropractic needs. They're very good - Highly highly recommend. Wei is absolutely brilliant and you will see a difference very quickly.
Noman Khan
Massage/Physio/Chiropractic